Early Easter morning was my mind's dance with a whippoorwill.  One who bombarded my sleep with night songs.  My husband and I arrived home late Saturday evening, ready for restful tranquility, and upon our arrival, Mr. Whippoorwill and his whippoorwilling friends began their nightly chorus.  A verse lasts about forty-five minutes, with one incessantly repeating triplet.  As we retired for the evening, we were hopeful that their concert was complete.
Easter is a morning of worship in songs like none other all year.  As a musician, Easter means being prayerfully prepared, practiced, and entirely rested!  Not according to my whippoorwill friend. His idea of Easter fun was to serenade my brain from 2:02 until 2:45 in the morning.  I tried to embrace my bird-brained friend, praying, attempting to think happy thoughts, trying not to imagine roasted Easter whippoorwill!  When his  prelude ended, I was so relieved, and began to drift back to sleep, only to be whipped back to sleeplessness by another distant but still audible verse two!
Morning rapid eye movement was jolted into mind racing, robbing away dreams to the reality of what soon- encroaching daylight required.  As 2:45 rolled into the 3:00 hour, prayers over family and close friends swirled.  Dreams that could become reality lifted up to heaven.  My heart turned to the voice of my bird friend.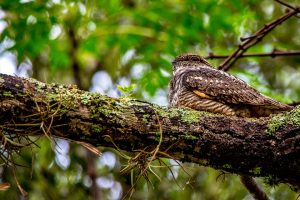 The whippoorwill was created to sing.  Just the very thing I would be doing in a matter of a few hours.  Although not in a tree at night, my songs would soon rise, filled with joy and thankfulness.  Joy for life!  Thankfulness for lasting life in my Savior who gave everything to give us eternal breath.  The God of eternal breath sings over us at night, even as we sleep.
Not exactly reconciled with my bird friend's sleep theft, interruption of rest gave me new thoughts of worship.  We sing because THE Singer made us to sing!  The Singer over all of creation intimately sings over our hearts at night.  He knows the highest joys, lowest worries, deepest concerns, cloudiest dreams of your inner soul, and He sings His perfect songs of comfort and peace into your heart.
Spring allows us to sweep away clutter and winter cobwebs and to spread freshly sprung seeds into new life.  And with the same renewal, to sing a new song!
Psalm 98:1 "Oh sing to the LORD a new song, for he has done marvelous things!"
A winsome whippoorwill had no idea – in his singing finery – that his songs would be used to inspire Easter joy like no other! To be awakened to God's eternal Easter promises.  To be reminded that He sings over us in the smallest hours of morning sleep, whether sleeping or sleepless.  His song surrounds my heart in the watches of the night.
"By day the LORD commands his steadfast love, and at night his song is with me, a prayer to the God of my life" Psalm 42:8.
It seems impetuous to even consider that God would sing over me at night except that His Word breathes it into truth.  How can a person refute God's love when reminders as clear as a whippoorwill's triplet sounds the reminder of His steadfastly loving song?  Wonderful beyond words!