Will you trust me?
The late December 2017 question that stood out from so many words seen, read, and heard over the course of only a few days.  Having a word of the year is not always on my radar.  But this one word has been pressed into my mind and onto my heart and carries into the second month of a new year!
On the lazy summer days of our family's lake vacations, long-ago images remain of our daughter jumping into unknown water, with her daddy closely coaxing but not holding onto her hands.  Tentative, stammering feet.  Lazy-day turned tense, our little one wanted to jump, but anxiety for what might happen and what could be within those waters made her hesitate.  Craig's hands extended help and his smiles encouraged trust, but he couldn't do it for her.  She had to step off the dock and into the mysterious water.  Would his arms steady her?  Could he keep her from danger?  Were her little green alligator floaty arms going to keep her head above the surface?
One small jump and simply one more swimmer in the making.  But, to her mind, it was a monumental leap.  Her eyes looked beyond his hands into his heart, with a wondering question.  Will you catch me?  Will you hold me?  Will you help me?  Only her willing step away from the dock would answer her question.  Finally, one splashing moment brought cool water joy and realization that reliable hands were waiting.  Trustworthy arms were holding and helping her back to the dock from which then repeated jumps and increased confidence and glee grew!  Even between parent and child, trust is not easily practiced.  To abandon control is to trust.  To surrender outcome is to trust.  To release understanding is to trust.
From a self-protective perspective, trusting self is to control.  Trusting self is to pursue outcome.  Trusting self is to insist on understanding.
Knowing what to expect is high on my list of delights and desires.  And yet, am I willing to release my expectations and entrust my heart to unknown ways, uncharted life waters, unpredictable twists and turns?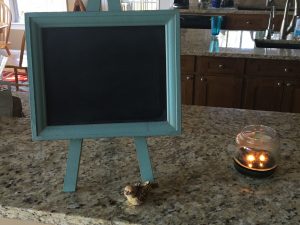 Verses learned and tucked into the files of my heart early in life are Proverbs 3:5-6.  "Trust in the LORD with all your heart and lean not on your own understanding.  In all your ways acknowledge Him, and He will make your paths straight." From the surface, those verses are smooth and gentle waters.  All I have to do is trust God with all of my heart, lean on His understanding, acknowledge Him in all of my ways and He will make my paths straight.  Clear and unstired waters.  Unless and until I start to churn it with many heart questions, leaning into my mind, and acknowledging questionable, unknown ways.  From the childlike perspective of Him extending His hand and letting me look into His eyes, into His soul, will I take the first step off of my "safely," self-protectively docked head, heart, and mind?  The childlike faith that Jesus encouraged His disciples to adopt is not as easy as it is easily described.  Have faith like a child.  As first newborn milk feeds, faith is born naturally.  As toddler independence increases, feet are often born away.  As childlike uncertainties grow, fear often replaces trust.  What does leaping faith really look like – jumping to His arms, His understanding, acknowledging Him, all in the making of straight paths?
What, in the swirling waters, does all of that mean?
Trust first needs, requires, and takes ALL of my heart.  God needs my trust as an act of love.  God requires my trust as an act of obedience.  God takes my trust as a gift from my heart to His!  Jesus said the most important commandment is that we love Him with all of our heart, all of our mind, all of our soul, and all of our strength.  On its own, my heart is doubtful, deceitful, and desperately dirty.  In Him, my heart – ALL of my heart – is supernaturally transformed and capable to trust Him completely!  Willingly, and unreservedly.  Will I trust Him?  How can I not if I truly love my God?
Trust secondly leans on God's understanding.  God's understanding – vast and deep as the oceans, wide and immeasurable as the universe, unsearchable as the furthest, most unreachable mile from our world – that is God's understanding.  "Oh, the depth of the riches and wisdom and knowledge of God!  How unsearchable are his judgments and how inscrutable his ways!  For who has known the mind of the Lord, or who has been his counselor?  Or who has given a gift to him that he might be repaid?  For from him and through him and to him are all things. To him be glory forever. Amen" (Romans 11:33-36).  A prayer of trust!  If the description of my God is so unimaginably and intangibly amazing, how can I help but lean into His understanding?  Will I trust Him?  How can I not if I truly sense His vastness above and beyond my smallness?
Trust thirdly acknowledges God in all of my ways with the promise that He will make my paths straight.  In ALL of my ways, acknowledging Him.  What I think.  Was that thought kind and uplifting or critical and negative?  What I say. Will those words offer life-giving encouragement or defeating discouragement to him?  Are those words going to benefit her spirit or tear her down?  What I do.  Will my actions reflect God and His truth or my personal agenda and a messy outcome?  Did I choose to do the right and good thing, or did my actions speak of personal gain and wrong motives?  The results of acknowledging God in all of my ways offers a future-ward promise.  God will make my paths straight.  It doesn't mean the way is straight when I'm on it.  It doesn't mean the way is clear and obstacle-free when I think, walk, and act upon it.  It is in the acknowledging of my God, every minuscule moment of the spiritual journey that He makes my path straight. And often not when I'm on it but in the looking back and the reflecting on His hands catching, holding and helping me while I'm in the uncertain, acknowledging-and-trusting-Him waters.
While I trust Him with all of my heart, lean not on my own understanding and acknowledge Him in ALL of my ways – trusting Him to help me fight against my own broken and sinful ways – then my trustworthy God makes my path straight!
When I reflect back on the path of my few years on this earth, it is not one that I would have ever imagined or, in many instances, requested.  The waters have often been deep, not only encircling but covering my head, saved to the surface because His hand caught me and pulled me up.  Gasping for spiritual breath, my way has been one leap of faith at a time, with His hands always there, always near.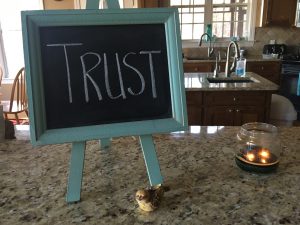 Thinking about what TRUST means, a succession of words describes the life-process.  TRUST starts with child-like faith.  It learns to walk and is a slowly-tended and coaxed attribute of my heart, mind, and soul.  Toddler stages find me clumsy and far from sure-footed.  Teenage trust often questions, seldom practicing Proverbs 3 footing.  Young adult trust captures God's truth but often races for the straight path ahead of God's ways.  Maturing trust longs to be with God, to watch Him make the way straight.  It is a trust life-cycle that is not always chronological.  So often, my unwieldy nature plops me right back on that childhood dock, looking into my Father's eyes, with Him saying, "Will you trust me?"
TRUST is a twisting and turning path through life, some days back at the beginning, with His hands outstretched for the next leap, some seasons enveloped in His arms and leaning fully into His understanding and acknowledging Him.  On whatever part of the path, TRUST is good, possible, and life-giving!  God is asking, "Will you trust Me?"