The recipe begins with room temperature butter, heavy whipping cream, flour, and large measures of love.  Mix said ingredients, form into a pliable snow ball of dough, wrap in plastic and chill.
Once ready, the soft dough flattens with each pressured passing of the rhythmic rolling pin, then each piece cut. One by one, each becomes flaky, layered tops and bottoms to stars that are as much a tradition in our Currey household as the tree and presents.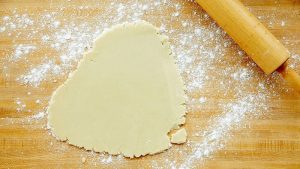 This year, while watching Hallmark movies, one as formulaic and delightfully predictable as the next, my mind wandered to the likeness of these cookies with God's overwhelming Presence and His lasting gifts through this life and forever.
With each measure of pressure and cutting, preparation by pricking and coating, protection for trials – not if, but when refining heat comes – God supplies everything needed.
Joy in trials.  Testing of faith that produces steadfastness.  Steadfastness that has its full effect in being made perfect and complete, lacking nothing.  A spiritual chemistry of all that is necessary to be completed in Christ.
All needed, all given to the greatest measure, with pure, perfect Spirit-ingredients. How like my life is that cookie dough.  Created uniquely to be for God whatever He fashions.  Not the same as any other person because conditions, circumstances, amounts of pressure, temperatures of refining are not the same, each cookie cut differently, each person created by God's hand – fearfully and wonderfully made.
All require pricking to prepare for the heat of the oven, just as we encounter trials of many kinds that prepare us and bring us to greater maturity and closer to completion in Christ (James 1:2-3).
Some not faring so well in the melding of oven, pan, and spatula. Like the hard parts of life that snag our edges, and sometimes crumble us apart.
Some cut from the last of the dough, a little less symmetric and worn out by extra rolling and plying, much like the years of life that pass, giving us thicker forms, a bit chunkier finish, and more life layers.
The galvanizing agent of these cookies is the lovely butter frosting, a mix of butter, confectioners' sugar, milk, vanilla, and then food coloring.  Starting in a powdery white mixture, then splashed with deep crimson droplets.  Catching the contrast of the deep red against the clean white, my thoughts trail to Jesus' blood.  He was perfect, unstained, without sin. Strikingly pure, He allowed His life blood to color our world, to spill into the center of our lives and make us new.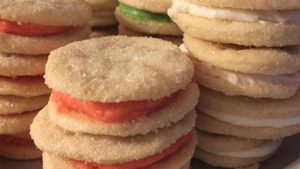 Some creations of the Christmas kitchen require more time, energy, patience, trial (and error), and are worth every measure of time, effort, energy, strength, and love.  God's care of your heart, your mind, and your soul require every measure and more of His patient Presence.  He rolls out the layers of your life, cuts the edges, pricks and prepares for refining heat, holds and mends when edges are crumbled, and always holds you fast.
Savor the sweetness of God's Presence.  His love is steadfast, and His faithfulness is sure.  His measures are perfect, and His completion of your life is trustworthy.  "If the dough offered as firstfruits is holy, so is the whole lump, and if the root is holy, so are the branches" Romans 11:16.  God is the one who plies and works the dough of our lives; He completes and makes us holy, step by step, refining season by season.
This Christmas, hold fast to God's promise that He who began a good work in you will be faithful to complete it (Philippians 1:6). "And we know that for those who love God all things work together for good for those who are called according to His purpose" (Romans 8:28).  And if you don't know His completing work in your life, accept Jesus' sacrificial blood that forgives your sins; invite Him to begin that good work of completion in your heart, soul, and mind.
Christmas joy that is complete!