Points of Purpose
With post-holiday dust settled, and treasured family gatherings fresh in memories, returning to routine, pushing reset and refreshing all surroundings is good and natural.  So last Friday was freed for cleaning house, doing laundry, changing beds, and pondering my pillow.  Yes, pondering. My pillow!
There is nothing quite like nestling onto one's nightly plumped pillow, fluffed up for falling into restful sleep.  But, of late, the feathers of my pillow have been poking and needling my head, robbing pleasant rest and slumber.  So, while changing the sheets, I went to battle in a personal pillow fight!  Running my hand over the fabric, prickly, pointed ends of many feathers snagged at my fingers. Mocking and jabbing, ten slow minutes ticked away while one by one, I pulled said feathers from the surface.  Fair game for defeat, I persevered until both sides were plucked and smoothly ready for sleep.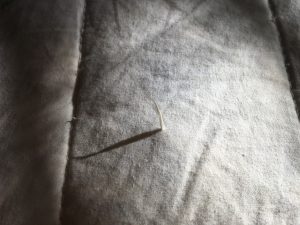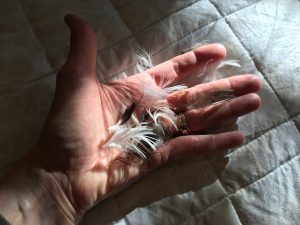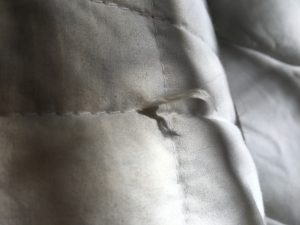 Feathers pointed my mind to God's purpose for this coming year.  Pointed ends of each feather tip, niggling and piercing their way into my head.  Reminding me of how God's Word penetrates my mind and heart.  Unrelenting, piercing, convicting, and often prickly to my sinful soul.  While seeking His direction for 2019, one word pointed into my mind – purpose.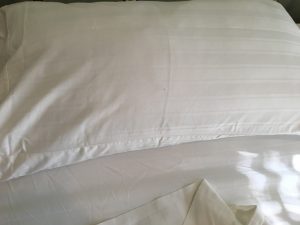 Two years ago, it was watch.  "Continue steadfastly in prayer, being watchful in it with thanksgiving" Colossians 4:2. 
Full disclosure.  2017 watching was full of wondering, waiting, seeking God, often doubting, mostly crying for answers.  Navigating and not understanding seriously deep and tumultuous waters.  Fraught with an autumn of my oldest son falling in a nearly fatal injury with crushed dreams, yet celebrating our youngest graduating college, and witnessing our oldest round the bend of sober resolves.  While crying alongside, prayer continuing steadfastly in the valley of a precious friend struggling for life, clinging to God's Word with eyes looking up to heaven.
Last year, it was trust.  "Trust in the LORD with all your heart, and do not lean on your own understanding" Proverbs 3:5.
2018 trusting, punctuated by life extremes – from watching my youngest son kneel with deepest pledge of love, asking for his love's hand in marriage to the exultant announcement of our oldest son and wife soon to welcome a grandson. And then, a loss so great in the life of my struggling friend that I will never understand.  Her husband suddenly and inexplicably torn from this life to heaven.  My heart is compelled to trust, not leaning on my own – outrageously limited – understanding.
2019 – Purpose.  "The Lord will fulfill his purpose for me; your steadfast love, O Lord, endures forever. Do not forsake the work of your hands" Psalm 138:8.
Purpose is God's.  He will fulfill His purpose.  For me.  For you.
The Oxford dictionary spells out purpose:
Reason for which something is done or created or for which something exists.
Resolve – a person's sense of resolve or determination.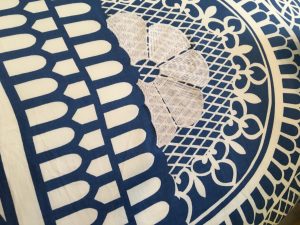 Psalm 138 purpose is baad. Not bad.  It literally means "on behalf of." On behalf of that which concerns me.  The LORD – of all creation who knows all, sees, all, understands all, and is everywhere – cares so intimately that He will perfect that which concerns me. God's purpose.
Why do I exist?  No higher echelon of education or dictionary of definitions is needed to spell out why.  I exist because God fearfully and wonderfully made me to glorify Him – forever!  And to that end, I pray God will fulfill His purpose.
Coupled with the why is the who and what?
Who am I? Nothing – I am nothing without God, but in Him there is power that He wields to accomplish His purposes. What is my purpose?  His Word says He will fulfill it.
Reason is God's, but it is also mine.  To read, hear, and walk out His Word.  To be sold out in proclaiming the wonder, power, hope, and eternally steadfast love of His life-changing Word – for every heart and mind on this earth!  To shift ministry-focus from notes of worship to women worshiping.  And He will not forsake the work of His hand.  His promise.
Resolve is God's, but it is also mine.  He has given me a heart, soul, mind, and strength to love Him – with resolved and determined purpose!  Serving in His steadfast love.
Heartache, suffering, doubt, even despair may be part of how this year has begun for you.  Questions abound, wondering is around many corners, and where is God?  He is Present.  Psalm-purpose is not without eternal promise.  Real and reliable promise.  Forever.
My head rests in God's reason and resolve.  His purpose.  Both purposefully pillow-soft yet prickly.  Falling feather soft on my soul yet with pointed ends of reason and resolve, on behalf of His work fulfilled – God's purpose.