I am struck by seemingly overnight seasonal changes! From fast fading summer greens in sparkling sunlight to autumn reds, oranges, and yellows shrouded in morning fog.  The earth switches wardrobes and reminds me to do the same.  Tarps and protective coverings blanket outdoor belongings, winterizing of home and hearth ensues.  Pets grow thicker and warmer coats for outdoor resilience.  Short sleeves and gauzy fabrics give way to flannel, fleece and all things cozy.  Whether prepared or not, cold comes.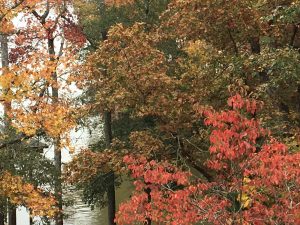 I wonder if the wardrobe of my soul is adequately outfitted for colder, unpredictable changes.  How do I make and keep it ready for sudden shifts? For seasons of suffering, for unexpected relationship challenges, for times when a perfect response is elusive, how do I remain covered by God as the only One who really knows and offers soul-soothing answers? Although my heart longs for sunlight, to bask in ever-fleeting moments when "all is right in the world," realistically, there will always be exposure to cold fronts and threatening storms, from outside pressures, conflicts and tensions to internal smarting frosts within my own sinful mind and heart.  Lightly pinpointed glimpses of what life will be face to face with God – in heart-places made right by His Presence – are constantly challenged by the dark layers of this chilling, broken world.
In my own flimsy human coverings, the world's chills prevail.  But there is reliable, resilient clothing which we can slip around our souls and pull over our shivering hearts and minds.
The amplified version of Colossians 3:12-15 describes the clothing God offers, "So, as God's own chosen people, who are holy – set apart, sanctified for His purpose – and well-beloved by God Himself, put on a heart of compassion, kindness, humility, gentleness, and patience which has the power to endure whatever injustice or unpleasantness comes, with good temper; bearing graciously with one another, and willingly forgiving each other if one has a cause for complaint against another; just as the Lord has forgiven you, so you should forgive. Beyond all these things put on and wrap yourselves in unselfish love, which is the perfect bond of unity, for everything is bound together in agreement when each one seeks the best for others.
Five pieces of comforting clothing to put on:  compassion, kindness, humility, gentleness and patience.
Compassion is mercy.  A new coat needs to offer mercy from high, unexpectedly gusty winds. From the battering of inclement conditions.  Compassion is that coat of tenderness toward another with listening, genuinely concerned care and understanding in the midst of life's winds. Compassion wraps beloveds with a spirit that seeks their best, and, if possible, protects them from harm.
Kindness is goodness and excellence.  When I'm searching for a new sweater, quality matters.  Is the craftsmanship good and will it wear with excellence? Does it breathe?  Does it fit?  Kindness is that sweater of goodness and excellence pulled over heart and mind, offering family and friends what is good and excellent.  Kindness fits the conditions – in sadness, kindness offers words of consolation; in joy, kindness shares words of celebration; in conflict, kindness extends words of exhortation; in thankfulness, kindness gives words of satisfaction.
Humility is lowliness of mind, not thinking of oneself above another.  On the beach this weekend, my husband's stocking cap became a hat of humility.  Collecting far more shells than his two hands could hold, he asked me to roll his cap inside-out, and then we carefully dropped his treasure trove into the hat.  Humility is a head covering that isn't afraid to get dirty in life's necessities; it isn't afraid to adapt to the setting, and goes the extra length to foster unity.  Humility smooths the protection of wisdom and love around listening ears.  Humility quietly prays, bends head and heart, and seeks God's best.
Gentleness is consideration.  "Be gentle" was a household mantra when our babies came home and as their little siblings began holding and loving their sweet swaddled bodies.  Gentleness requires kid-gloves, a touch that is sensitive and mindful of the ones being held.  Warm, thoughtful gentleness extends preferential treatment to others.  In our stormy society, consideration seems less and less common. Gentleness offers quiet, calm, appealing strength when storms strike.
Patience is forbearance and long-suffering.  A lifetime in the Army yields drawers full of what is fondly called snivel-gear: an inside shield of cold weather-wear that insulates the body like a glove.  Patience is spiritual snivel-gear. In the face of suffering, patience provides staying quality, the ability to stay the course and stand strong.  We bear with each other, we wait when answers aren't forthcoming, we hope when life is uncertain, and we trust God to bring about His good plans – all with God's core strength for heart, mind, and soul through patience.
As temperatures drop, the sun sets early, and we cozy into the shifting season, our wardrobe is reliable in God.  Putting on His compassion, kindness, humility, gentleness, and patience is worth the wear!
For Gentle Consideration:
Colossians 3:12-17, NIV
12 Therefore, as God's chosen people, holy and dearly loved, clothe yourselves with compassion, kindness, humility, gentleness and patience. 13 Bear with each other and forgive one another if any of you has a grievance against someone. Forgive as the Lord forgave you. 14 And over all these virtues put on love, which binds them all together in perfect unity.  15 Let the peace of Christ rule in your hearts, since as members of one body you were called to peace. And be thankful. 16 Let the message of Christ dwell among you richly as you teach and admonish one another with all wisdom through psalms, hymns, and songs from the Spirit, singing to God with gratitude in your hearts. 17 And whatever you do, whether in word or deed, do it all in the name of the Lord Jesus, giving thanks to God the Father through him.